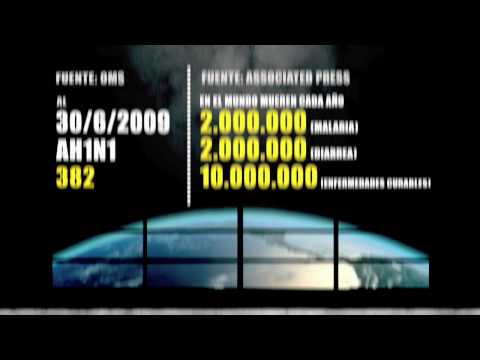 Algunos Link's de información que sirve de soporte de algunas de las afirmaciones del vídeo.
Patente a Tamiflu en USA, otorgada a Gilead
Rumsfeld como Chairman de Gilead y negociación de Tamiflu con Roche:
http://www.gilead.com/pr_783456
http://www.gilead.com/pr_933190157
Donación de Tamiflu a la OMS en 2005:
http://www.roche.es/portal/eipf/Spain/spain_portal/roche_es/2005?paf_gear_id=17400002&paf_dm=full&doc_id=re7300002/re76100002/re77200005/re752003/article/Article_eWep_03244.headline&paf_pageId=re7188183&tostart=1
Adquisición de Tamiflu en Alemania:
http://www.tagesspiegel.de/zeitung/Die-Dritte-Seite;art705,2261507
Grafica de la acción de Gilead:
http://www.google.com/finance?chdnp=1&chdd=1&chds=1&chdv=1&chvs=maximized&chdeh=0&chdet=1241737103937&chddm=1000569&q=NASDAQ:GILD&ntsp=0
Gilead Sciences, Inc. Delivers Termination Notice To Roche For Tamiflu Development And Licensing Agreement
Thursday, 23 Jun 2005 04:00pm EDT
http://www.reuters.com/finance/stocks/keyDevelopments?symbol=GILD.O&pn=21
Gilead Sciences, Inc. announced that it has delivered a notice of termination to F. Hoffmann-La Roche Ltd (Roche) for material breach of the parties' 1996 Development and License Agreement for Tamiflu (oseltamivir phosphate), an antiviral pill for the treatment and prevention of influenza. Through this action, the Company is seeking to terminate the 1996 agreement, which would result in the rights to Tamiflu held by Roche reverting to the Company.
Roche Seeks New Tamiflu Indication for the Prevention of Influenza:
http://www.gilead.com/pr_959096829
Roche Receives FDA Approval Of TAMIFLU™, First Pill To Treat The Most Common Strains Of Influenza (A&B):
http://www.gilead.com/pr_941066384
Gilead Sciences Announces Fourth Quarter and Full Year 2005 Financial Results:
http://www.gilead.com/pr_810204
Ver: Annual Report 2005 de Roche en su respectiva web en ingles, muestra el aumento del 300% en el incremento de las ventas de Tamiflu en 2005.